Forget Alton Towers, TV takes us on enough emotional roller coasters thank you very much.
We hated Rylan, now we love Rylan. We loved One Direction - and we um, still love One Direction.
Millie slapped Spenny. DAN WAS GOSSIP GIRL. Kim got married, Kim got divorced, Kim got pregnant.
Oh em gee, somebody reinforce our safety harness' because we are CLINGING ON FOR DEAR LIFE!
But guess which series really sent us doolally?
Styled To Rock.
It had Rihanna, (what a babe) it had Henry Holland, (bigger babe) it had Katy Perry. It had twists, turns, dramatic exits, more tears and tantrums than an episode of teen mom - and it gave us a glimpse into the elusive world of A-list styling. Most importantly however, it had Heidi.
Lalala happily watching Styled To Rock...
Oh no! Heidi was pipped to the post! Nooo we wanted Heidi to win! Boo hiss!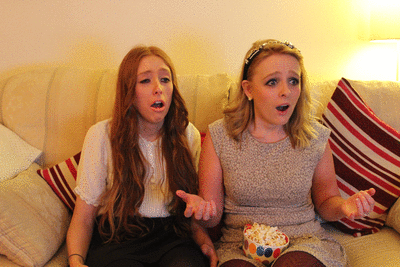 Hold the phone, Heidi's releasing her own range of HEIDI JUMPERS??!!
YAY! WE GOTS TO GET ONE!
Ooh it's so pretty and spotty and dotty and pink and perfect! Thank you Heidi!
Who's going to wear it first! Me me me me me me...